ADMISSION PROCEDURE
How to apply for Admission in Institute: All the candidates, desirous to take admission in the course may obtain a copy of the prospectus containing application from against cash payment of Rs 100/- in from institute counter or by sanding demand draft of Rs. 150/- in favor of Life Guard Nursing Institute, Sangrur payable at Sangrur. Application must be made on the prescribed from available in the prospectus only. Application complete in all respect may be sent under registered AD cover to Principal. Life Guard Nursing Institute, Patiala Road, Kaloudi ( Sangrur) or in person at the institute's counter during office working hours. Complete application accompanying the documents mentioned in check list, duly attested by a Gazetted Officer, must reach in Institute before last date laid down by PNRC. The students must have to submit their original certificates of Matric and 10+2 at the time of admission and these certificates will remain with the institute until their course in completed.
Eligibility Conditions :
(i.) Age: the candidate shall be 17 years or more on and 35 years or less. However there will be no age limit for candidates (Promotes) applying through proper channel, who are already in Govt. service.
(ii.) Minimum Qualifications : shall be 12 years of schooling (10+2) or its equivalent with 45% marks (40% marks for SC/ST Candidates). Candidates applying in Promotes should be registered A.N.M. with State Nurse Registration Council & must be passed 10+2 or its equivalent.
(iii.) Residence Status : preference will be given to the candidates who are residents of Punjab as per Deptt. of Personnel vide letter no 1/3/95-3PPI/9619 dated June 6th 1996 and 1/2/95-3PII/81 dated January 1st 1999.
(iv.) Medical : the candidate should be medically fit.
(v.) Preference : shall be given to those students who have passed their 10+2 to its equivalent with Science Subjects i.e. Physics, Chemistry & Biology or Maths.
Method of selection : After screening of Application forms by the Admission Committee, Merit list will be prepared, which will be displayed on institute's Notice Board on next day of last date. The eligible candidate will also be intimated by Regd. Post & they will be called for interview before the admission committee of the institute.
Duration of the course :- The duration of General Nursing & Midwifery is 3 year 6 months and after this diploma course, students must get themselves registered with State Nursing registration Council as per their rules & regulation.
Eligibility for admission to final examination:
To be eligible for admission to annual examination, the students should have:
(a) Attendance of the tutorials, practical & field work for each papers must not be less than 75%;
(b) Must have completed the practical training requirements;
(c) Must present her Record of practical experience, duly completed and signed by the Principal;
(d) Must have pursued a regular course of studies for a minimum period of 11 months in a year;
(e) Must have met the field experience requirements.
Curricular plan and scheme of examination ( as mentioned by INC, Delhi)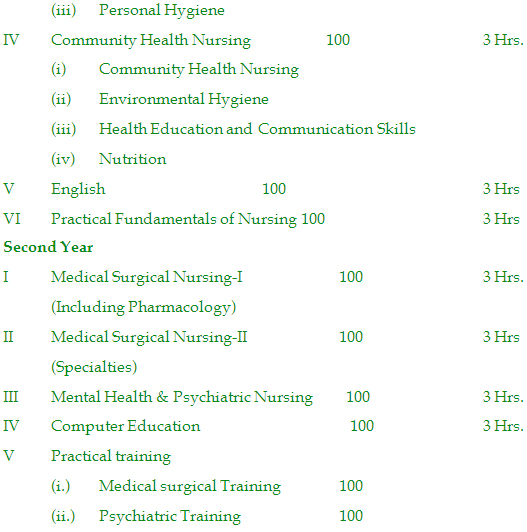 Leave : 30 days ; absence or any other than medical leave will be deducted from annual leaves.
Medical Leave : 10 days ; only on recommendation of Medical Office.
Preparatory Leaves : 7 days prior to Examinations.
Migration : Migration from Life Guard Nursing Institute to any other institute / school, for the same programme is permissible only with the prior approval of the principals of both the institutes, if any student, wishes to discontinue her studies due to any reason, shall have to deposit the full amount of admission fee as well as tuition fee for the entire course with the institute.
Non-Disciplinary Acts : The students , indulged in the following activities, will attract disciplinary action against them.
1. Not attending classes or not appearing in examinations & tests.
2. Non obedience with rules of the institute / hostel.
3. creating nuisance, disturbance, misbehavior in the campus / hostel.
4. Destroying / mishandling with facilities, equipments, infrastructure or any other property of the institute.
5. Ragging / fighting / enrolling / teasing with each other.
6. Non-ethical and pessimistically unsophisticated & uncivilized behavior.
7. Anything, which effects career, growth & image of self / other & that of the institute.
Being indulged, may attract serious disciplinary action, which includes fine, expulsion or both as decided by Disciplinary Committee, Management or Principal.